Common Problems
Lodi CA Orthodontist with over 20 years experience
Class II
Class II problems represent abnormal bite relationships in which the upper jaw and teeth project ahead of the lower jaw. This is called "overjet." Class II patients usually exhibit a convex facial profile with a deficient chin prominence. Typically, a class II problem is inherited and results in a shorter than normal lower jaw. Other factors, such as persistent thumbsucking, can aggravate these problems. Correction of this disorder generally required influencing facial growth to bring the upper and lower jaws and teeth into their proper position.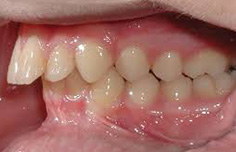 Class III
Class III problems are also primarily genetic in origin. In this instance, the lower jaw and teeth are displaced to the front of the upper jaw structure. Facially, the appearance may give the impression that the lower jaw is excessively large, but in many cases the lack of upper jaw development is at fault.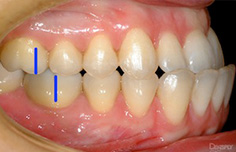 Crossbite
Posterior crossbites usually result from a constricted upper jaw or unusually wide lower jaw. A narrow upper jaw will often force a patient to move their lower jaw forward or to the side when closing into a stable bite. When closed into this accommodated position, the lower teeth are located outside the upper teeth. This posturing may result in an incorrect functional position of the lower jaw with accompanying facial asymmetry.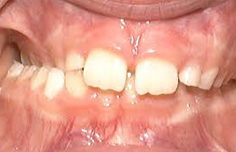 Crowding
Crowding of teeth is the most common problem associated with the need for orthodontic care. Although many factors contribute to the dental crowding this problem usually stems from a discrepancy between space available in each jaw and the size of the teeth. Aside from aesthetic considerations, poor alignment of teeth may be associated with periodontal problems and an increased risk of dental decay due to difficulty in maintaining proper oral hygiene.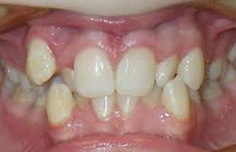 Deepbite
Excessive vertical overlapping of incisor teeth called "overbite" is generally found in association with a discrepancy between the length of the upper and lower jaws. It usually results in excessive eruption of either the upper or lower incisors or both. Associated problems include: 1) excessive display of gum tissue 2) lip protrusion or entrapment 3) biting the roof of the mouth, and 4) incisor wear.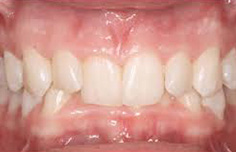 Openbite
A lack of vertical overlap of the incisor teeth can usually be traced to jaw disharmony or persistent habits (i.e. thumb sucking habits and posturing of the tongue between the front teeth) or excessive vertical growth of one or both jaws. Early assessment and intervention with these disorders is critical to the overall success.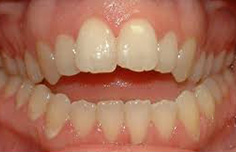 Spacing
Spaces between teeth are another common problem associated with the need for orthodontic care. Like crowding, spacing may be related to a tooth-to-jaw size disharmony. Gum tissue attachments called "frenae" are also a common cause of spacing between front teeth. Incisor protrusion may also lead to spacing. Other contributing factors to spacing between teeth include atypical or unusually narrow teeth, and missing or impacted teeth.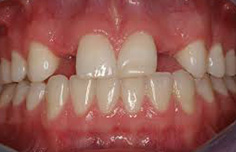 Orthodontics isn't just about pretty teeth, it's all about a healthy bite and smile. When you or your child become a patient at Sutter & Suliman Orthodontics, we focus on giving you a smile that will last for a lifetime, one that functions well and looks beautiful.

Invisalign
If you're looking to straighten your smile without braces, Invisalign® clear aligners are a perfect choice for many people. Invisalign straightens teeth utilizing a clear plastic aligner that is virtually invisible. Invisalign is the ideal choice for adults who want a healthy, beautiful smile without metal braces.

Invisalign Teen
Can you imagine middle school or highschool without metal braces? Thanks to Invisalign Teen, metal brackets and wires are no longer a rite of passage for teenagers. Now teens can straighten their teeth and smile while doing it with the convenient, comfortable and virtually invisible treatment.

Metal and Clear Braces
Braces are a popular option for kids and adults who want to have a beautiful smile. Now, thanks to advances in technology, braces have dramatically improved. This means that the discomfort from years past has been significantly decreased.  Whether you opt for traditional metal braces or an esthetic choice like clear braces, you'll love the straight teeth and a healthy bite that braces can achieve. 
Please feel free to contact us to set an appointment.
1101 W Tokay Street, Ste. 3,
Lodi, California 95242
Sutter & Suliman Orthodontics
1101 W Tokay St., Ste 3
Lodi, California 95240
209.334.4111
Mon: 7:30 am – 4 pm
Tues: 7:30 am – 4 pm
Wed: 7:30 am – 4 pm
Thurs: 7:30 am – 4 pm