Orthodontic Appliances
Lodi CA Orthodontist with over 20 years experience
State of the Art Appliance Systems
Invisalign®
The Invisalign® System is a series of clear overlay templates—called aligners—that have been generated by computer simulation to gradually move the teeth. This system is available to adult patients with certain orthodontic bite problems. Ask us if you are a candidate for the Invisalign® system.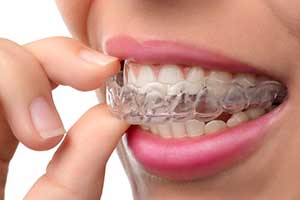 Heat Activated Wires
Heat activated wires are easily engaged wires that require fewer wire replacements than traditional braces; their incredibly light touch ultimately makes for smoother treatment of your teeth.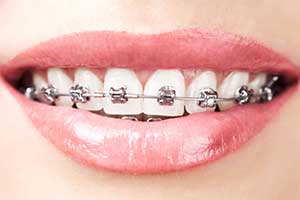 Bitefixer
The bitefixer appliance is similar to a herbst appliance but not as rigid. It is used to move the upper molars back while moving the lower arch forward. The appliance is used while a patient is currently wearing braces. It runs from the upper first molar band down to the lower arch wire.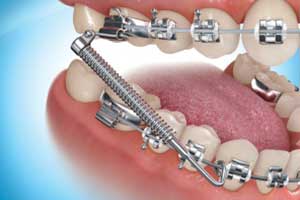 Herbst
Ordinarily, when we see a patient with the upper teeth protruding, we tend to think that the upper jaw and teeth are too far forward; but, more often than not, this condition is due to a small lower jaw that is further back than it should be. With these patients, we would like to encourage the lower jaw to catch up in growth, the Herbst appliance helps this happen.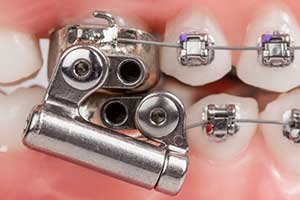 TAD's
Braces unfortunately have limits and certain conditions are not easily treated by braces alone. TAD's (temporary anchorage device) are a revolutionary technique that combines the tremendous benefits of implant technology and orthodontics. In short, they are special titanium screws that can be placed in the jawbone to allow orthodontists to move teeth in ways that have never been possible before.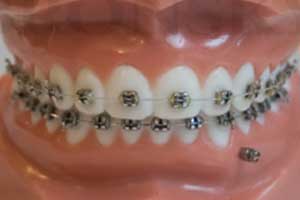 Headgear
There are several different types of orthodontic headgear, each designed to work best in a specific situation. We will design a treatment program to address your individual needs, and select the most appropriate type of headgear; we will also instruct you on its use and care. It's important for you to follow instructions carefully so that, working together, we can achieve the best results from your treatment.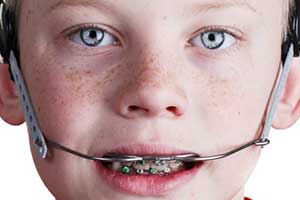 Orthodontics isn't just about pretty teeth, it's all about a healthy bite and smile. When you or your child become a patient at Sutter & Suliman Orthodontics, we focus on giving you a smile that will last for a lifetime, one that functions well and looks beautiful.

Invisalign
If you're looking to straighten your smile without braces, Invisalign® clear aligners are a perfect choice for many people. Invisalign straightens teeth utilizing a clear plastic aligner that is virtually invisible. Invisalign is the ideal choice for adults who want a healthy, beautiful smile without metal braces.

Invisalign Teen
Can you imagine middle school or highschool without metal braces? Thanks to Invisalign Teen, metal brackets and wires are no longer a rite of passage for teenagers. Now teens can straighten their teeth and smile while doing it with the convenient, comfortable and virtually invisible treatment.

Metal and Clear Braces
Braces are a popular option for kids and adults who want to have a beautiful smile. Now, thanks to advances in technology, braces have dramatically improved. This means that the discomfort from years past has been significantly decreased.  Whether you opt for traditional metal braces or an esthetic choice like clear braces, you'll love the straight teeth and a healthy bite that braces can achieve. 
Please feel free to contact us to set an appointment.
1101 W Tokay Street, Ste. 3,
Lodi, California 95242
Sutter & Suliman Orthodontics
1101 W Tokay St., Ste 3
Lodi, California 95240
209.334.4111
Mon: 7:30 am – 4 pm
Tues: 7:30 am – 4 pm
Wed: 7:30 am – 4 pm
Thurs: 7:30 am – 4 pm